First Game At Home With Brewer.
Watchful Eyes Of Coaches Trickey & Holmes
Brewer Home Game Opens Up 2011-2012 Season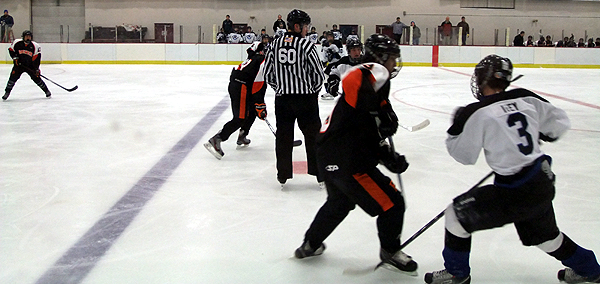 At The Face Off... In Formation.
Class B East Maine State Runner Up Champions
Blackhawks Play At Alfond Before A Packed House!
Blackhawks Beat Old Town In Semi Finals Winslow ME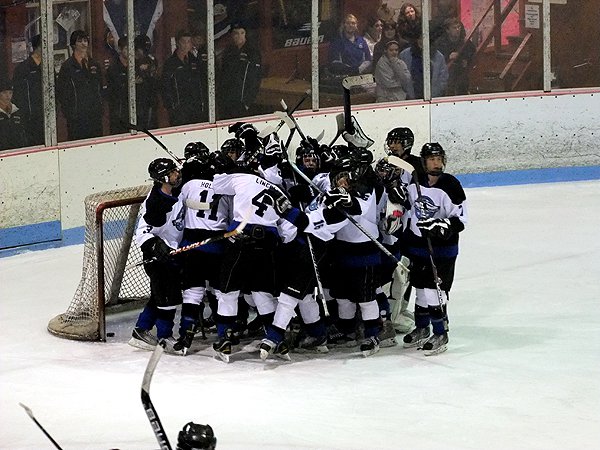 Heading To The Eastern Maine Class B Championships
Playoffs For Class B Maine High School Hockey. Blackhawks, Number Two Seed Beat Old Town Number Three Seed March 5th. 5-3. Game On Neutral Ice, Winslow Sukee Arena in Winslow.
Brewer Played Too And 5 & 8PM Back To Back Games. Blackhawks Take To The Ice In Alfond Arena In Orono For Tuesday Night Class B Playoff East Maine Game Against Brewer! Played Hard But Have Tough Loss. End Up Your Class B Maine East Champs Runner Up! Good Job, Seasons Boys, Coaches, Managers!
Captain Ben Ward Gets 100th Point During Recent Senior Night Game Below.
Senior Night Ben Ward Gets 100th Point.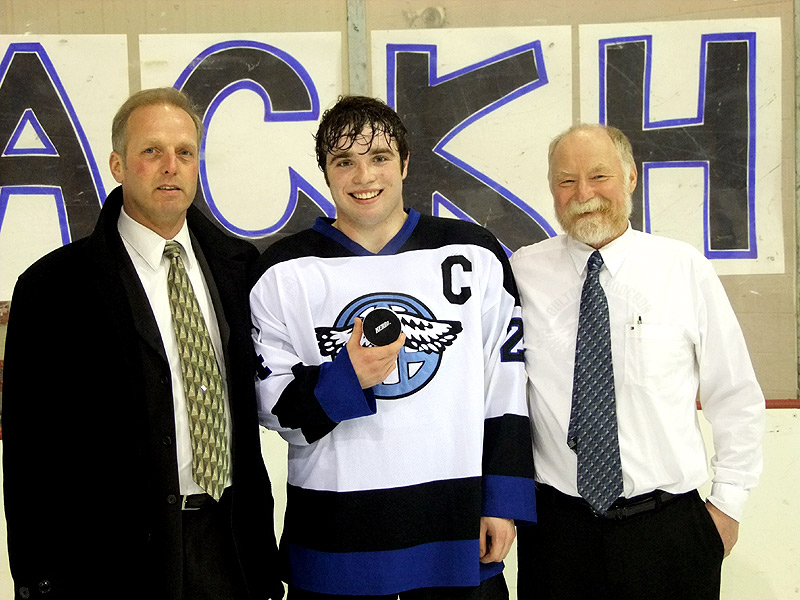 Coaches Mitch Holmes On Left, Joel Trickey On Right
Blackhawks And Brewer Witches Will Be In Playoffs.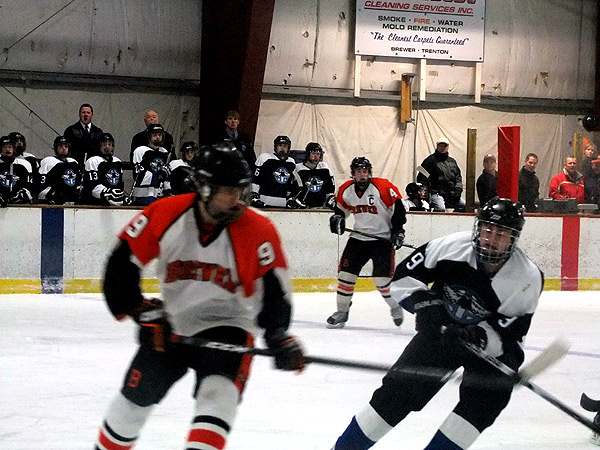 Eastern Class B Champion In This Image..Hope Its Blackhawks!
Blackhawks Beat Presque Isle Wildcats 2nd Time.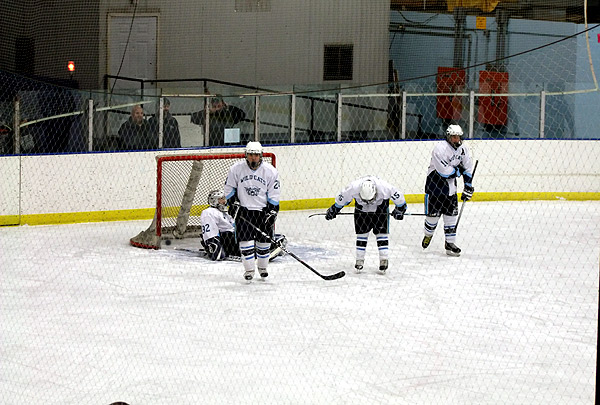 6-4 Blackhawks Victory Feb 1st At The Forum.
Blackhawk Ben Ward Scores On Brewer Penalty Shot.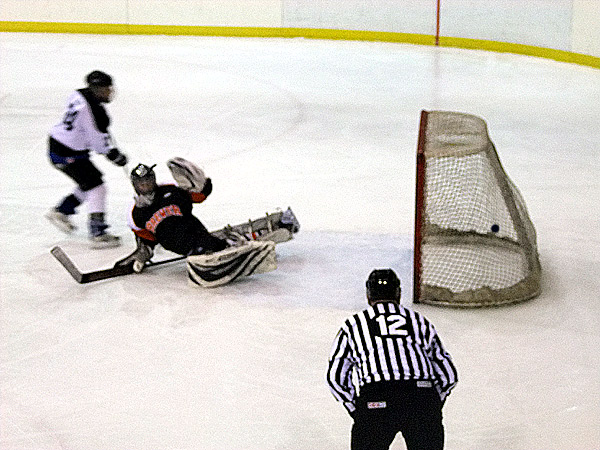 Back & Forth Brewer Game Tough Loss In Over Time 5-4.
6-3 Blackhawk Win Over John Bapst. Now 10-2.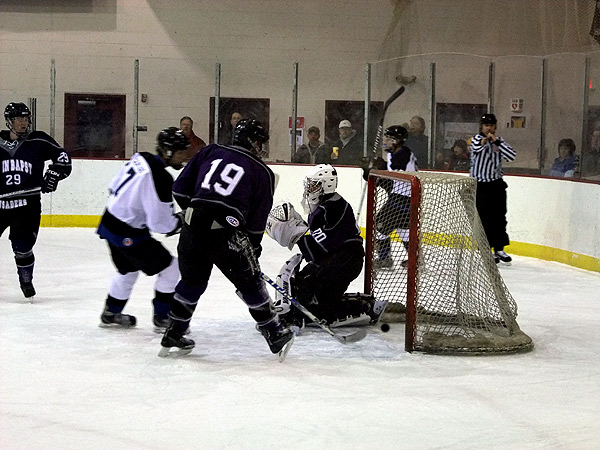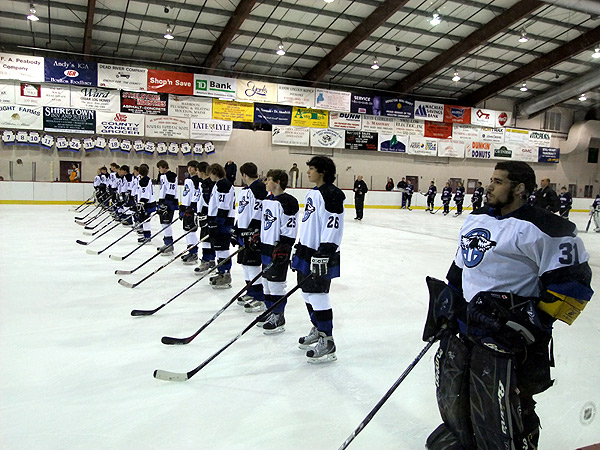 Winning Goal Against Presque Isle In Sudden Death.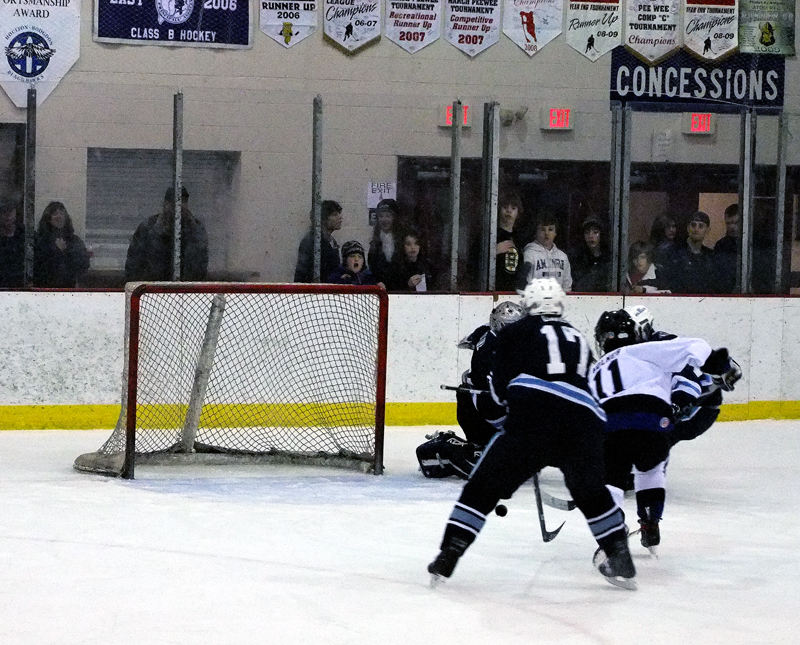 4-3 Win On Blackhawk Senior Night At Millar Arena!
It's All Over...Start the Bus.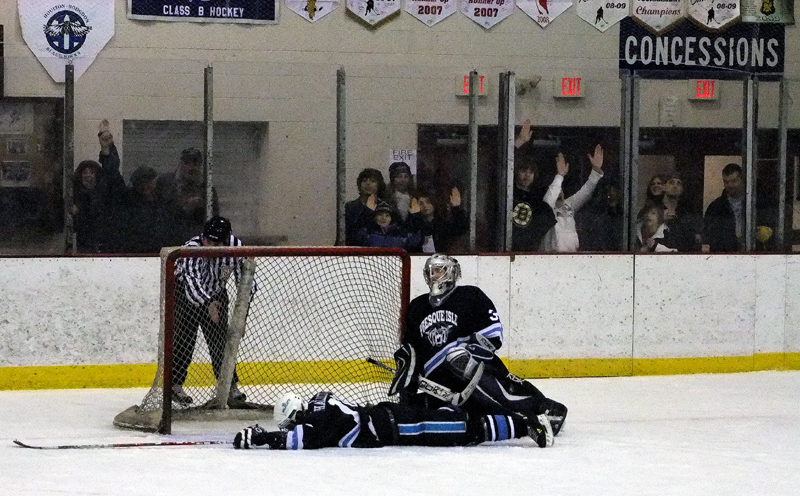 Hard Fought Victory For The Houlton Hodgdon Blackhawks.
The Band Played, The Arena Was Packed..4-3 Win!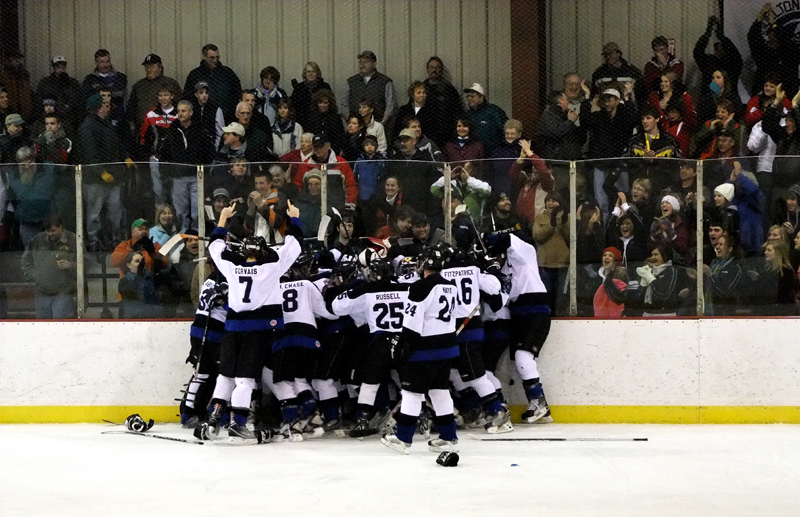 Over Time Blackhawk Senior Night Victory! Packed House.
Hard To Get Entire Band In One Image..BIG BAND!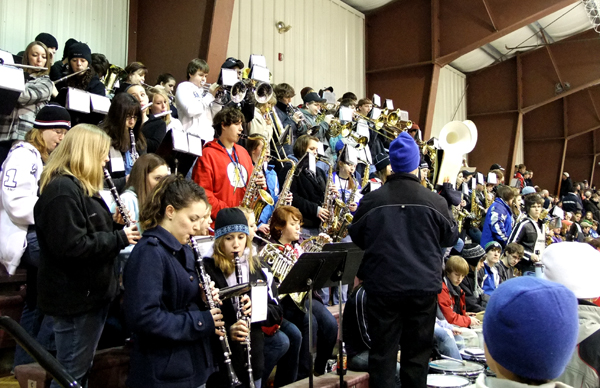 Loud, On Key, Everyone Moving, Grooving..Thanks Joe!
The Support, The Managers.
Blackhawks...Everyone Has a Job On And Off The Ice.
Lots Of Help On And Off The Ice..Details, Stats.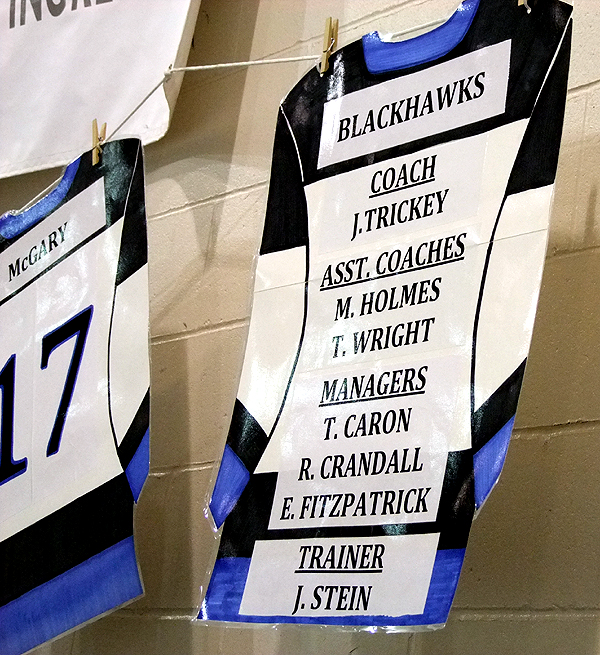 Support, Rallying The Troops...Video, Water, Help.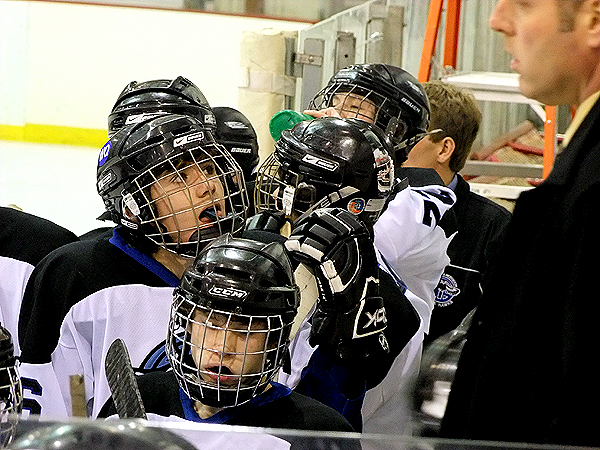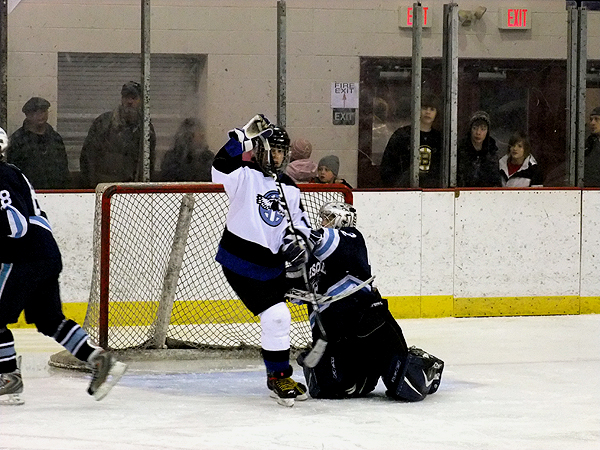 PI Goalie Was On His Toes, And Kept That Way!
Crowd Roars As Two County Teams Compete.
50/50 Was Close To 200 Dollars..Chris Holmes Won.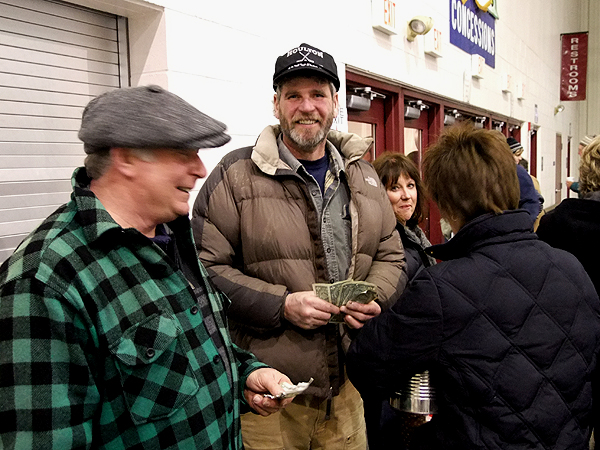 Old Hockey Rink Veterans Double Team Peggy For Tickets.
#8 Nic Chase Buzzes In To The Sweet Spot.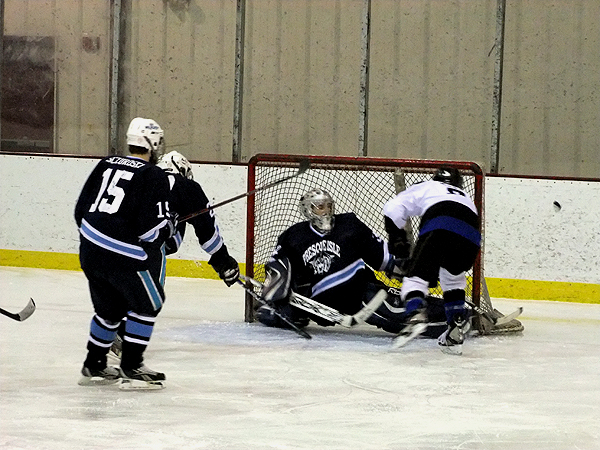 Hair Ball...Pressure From Blackhawks All Night Long.
Traffic..Lots Of Fast Paced Action In Front Nets.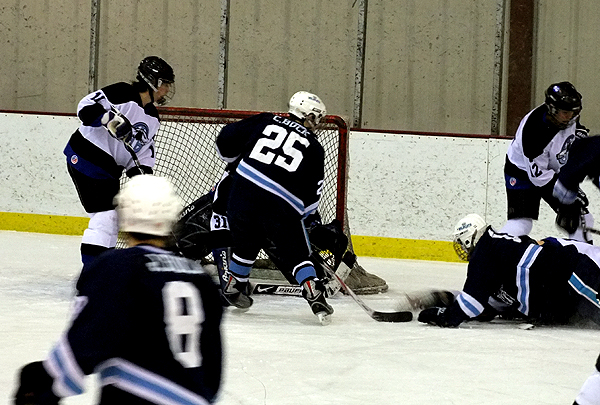 Back And Forth, Faster Faster In To Sudden Death.
Malik Abouleish...#31 Was On Fire All Night Long.
Cat Like Quick.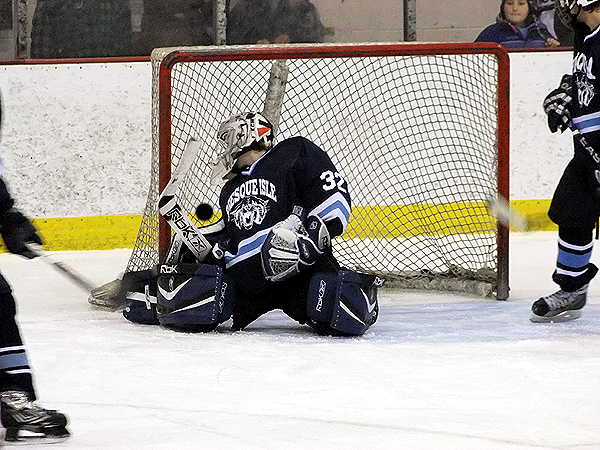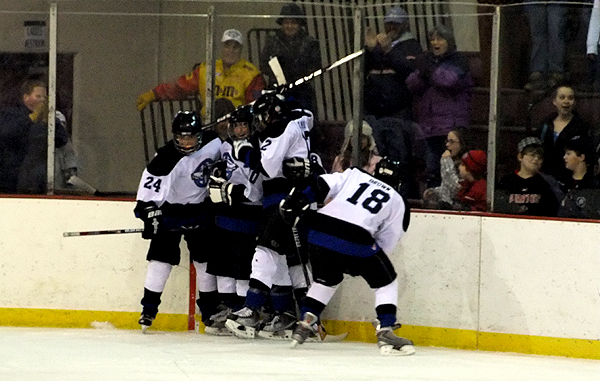 Senior Captain Jake Peabody Applies Pressure.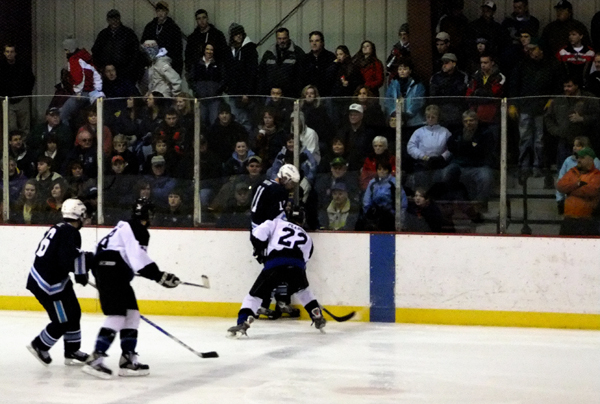 In Front Of The Presque Isle Wildcat Fans.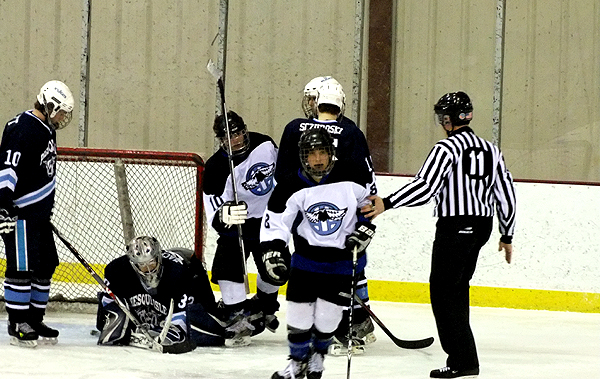 Not A Bad Senior Night Win Shouts #12 Jared Tapley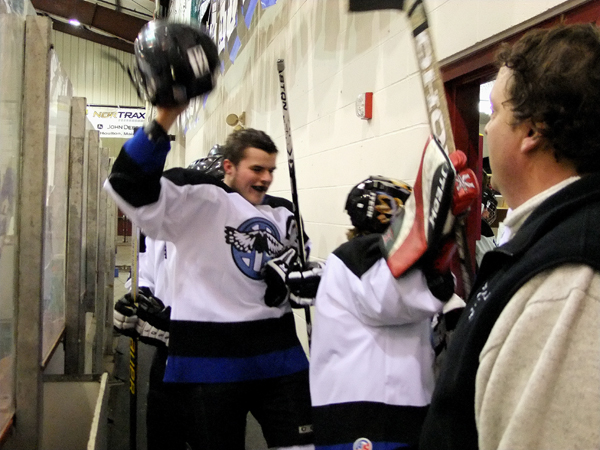 Super Win For A Young Team.
The 2010 Blackhawks At Millar Arena Home Game.
Houlton Hodgdon Blackhawks Maine High School Hockey Team
The Other End Of The Blackhawks Line Up.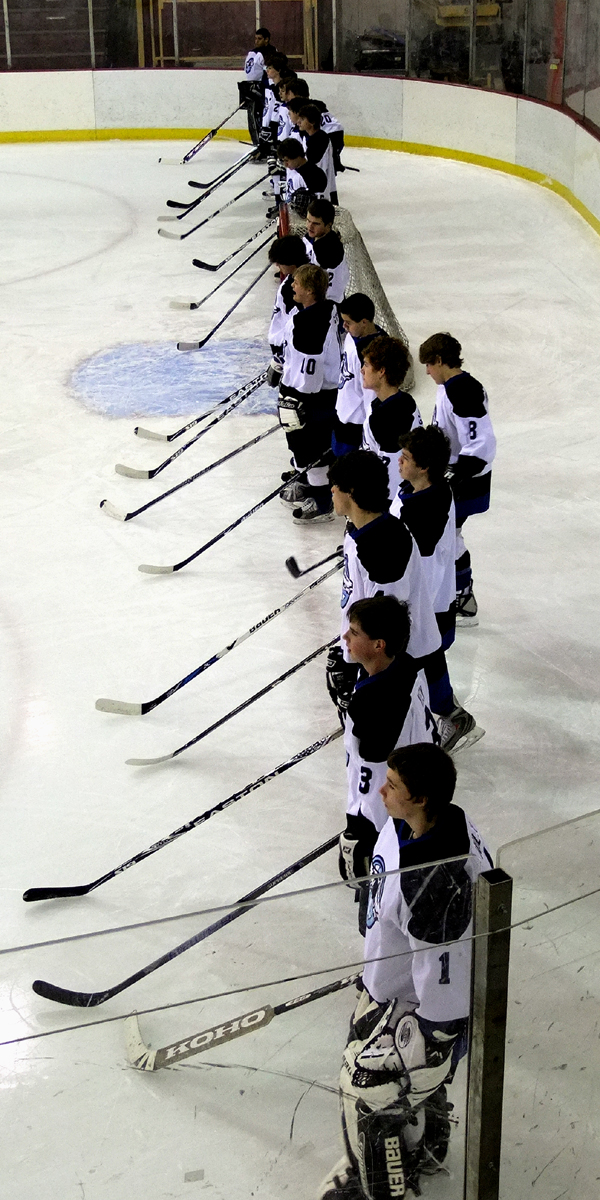 Start Of Lawrence Bulldog Game At Home. Blackhawks Win 5-3.
Welcome To The 2009-2010 Winter Blackhawk Hockey Season! Stay Tuned For Updates On Games, The Team.

Concern For Goalie Malik Abouleish As Team Watches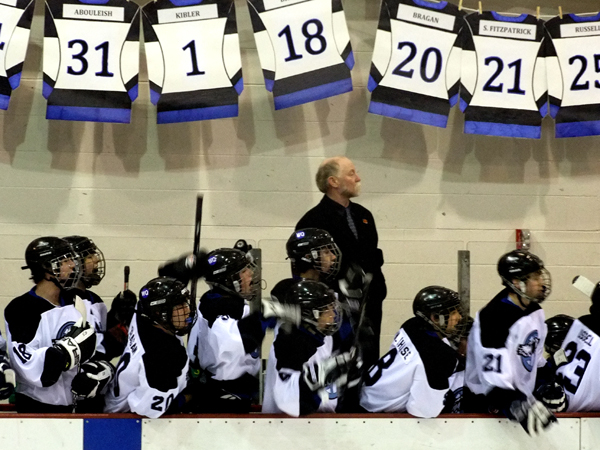 Blackhawks Win 4-1 Over Hampden Broncos
Line Celebrates A Goal..5-3 Win Over Lawrence.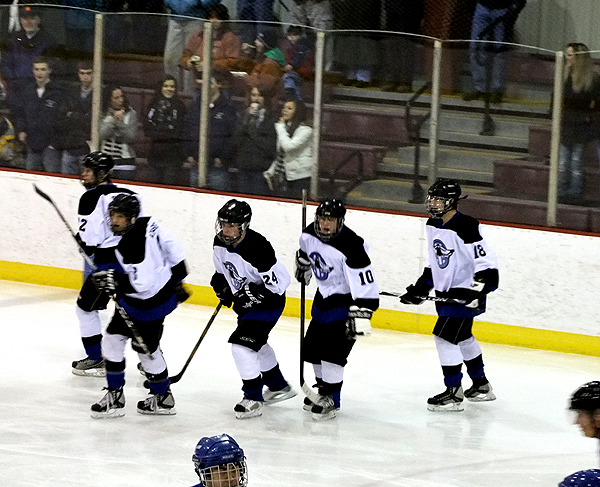 Fun To Watch, You Have To Be On Your Feet.
Heavy Traffic...Blackhawk Parker Sanderson Caught
Excuse Me, Coming Thru, Get Out Of My Way
Presque Isle Wildcats Part Of Senior Night At The Millar Civic Center. The Houlton High School Band Showed Up Too!
Overtime Win...Old Town Coyotes' Goalie Had 54+ Saves!
Watch The Blackhawks - Greely Game. Back And Forth Right Up To The Horn!
Playing At The Cumberland County Civic Center.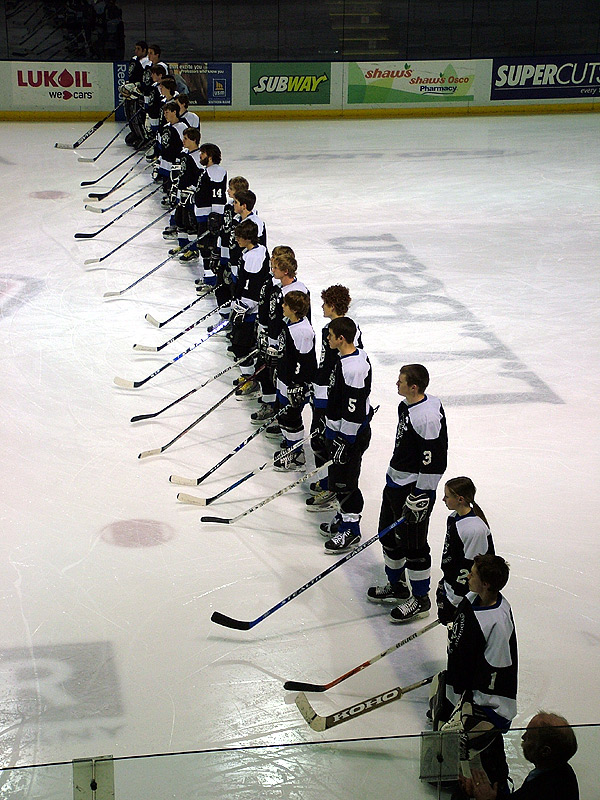 The Blackhawks...With Only Cam Lincoln Injured 2009.
Early Team Picture...Start Of Season.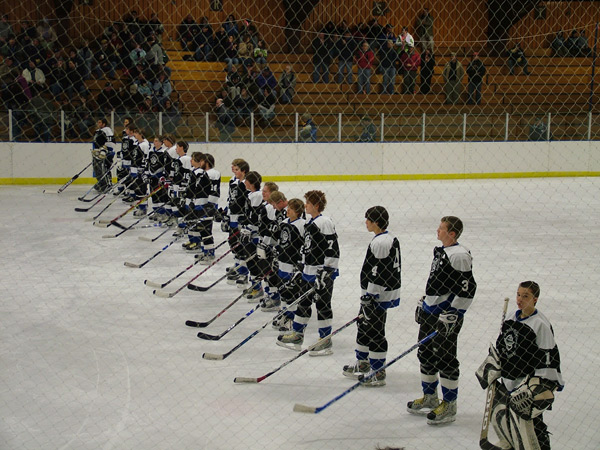 Look For More Images Added As We Have Time!
Swooping In With The Package...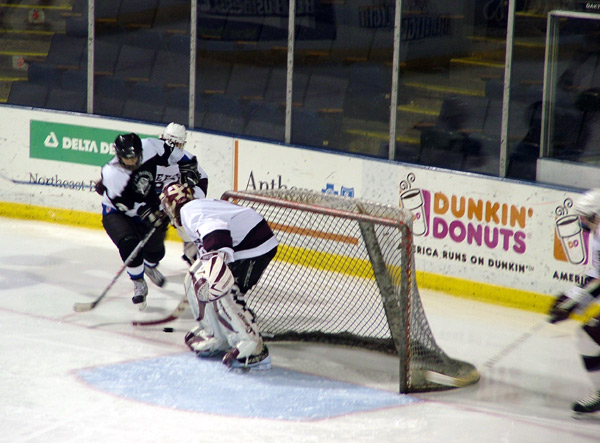 Delivery Made.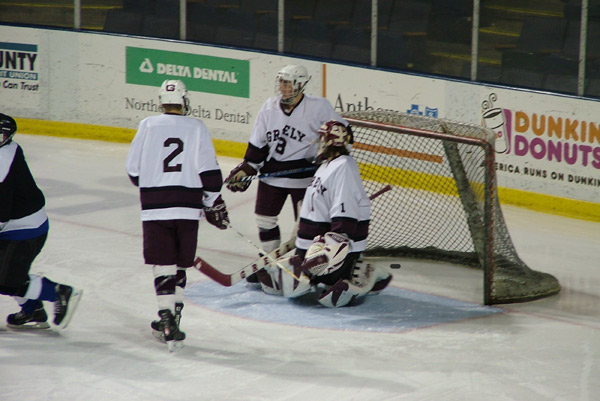 Happy Blackhawks Celebrate.
Big Game Against The York Wildcats Played At Millar Arena As A Make Up Storm Game Dec 29th. Watch the Video Highlights And See The Team In Action!
Avery Kibler..Blackhawks New Goalie!
Minding The Twine...Protecting The Net!
The Blackhawks Thru Blowing Snow Fly Into Presque Isle To Take On The Wildcats! Watch The Video!
Blackhawks Play PI Wildcats..Always A Good Contest
First Game With Bangor Rams At Millar Civic Center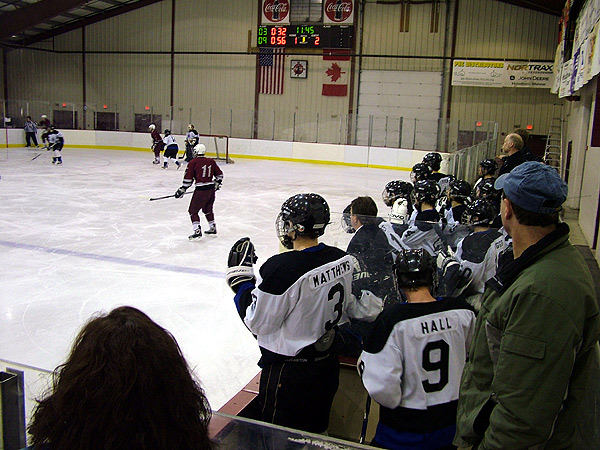 Double Click And Watch The Blackhawks/ Bangor Rams Video Here For Game One! Two Games...One Win/One Loss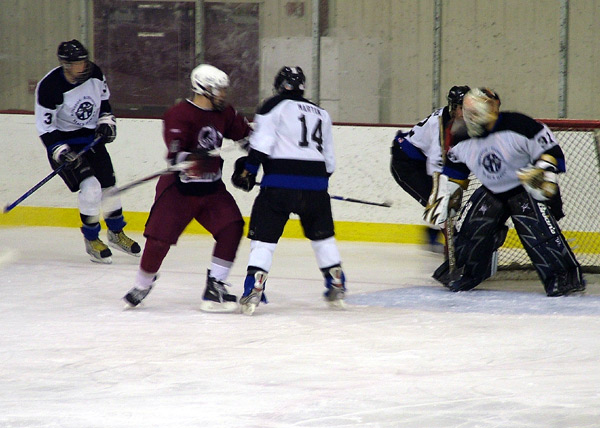 Goalie Avery Kibler Minds The Twine In 6-4 JV Win!
Exciting High School Class "B" Hockey..Season 2008/2009! Last Season Video Highlights Links To Enjoy Below!
Eastern Maine Quarter Finals! Houlton Hodgdon Blackhawks Swoop Into Wildcat Ice And Leave Building Winner, Advancing To Semi Finals!
Blackhawks Dive Bomb Forum, De-Claw PI Wildcats 2-0!
Blackhawks Out Skate Hampden Broncos 8-1 At Millar Civic Center!
Blackhawks Squeal In To Winslow To Play And Beat The Black Raiders On Their Home Ice!
Blackhawks Out Skate Winslow Black Raiders !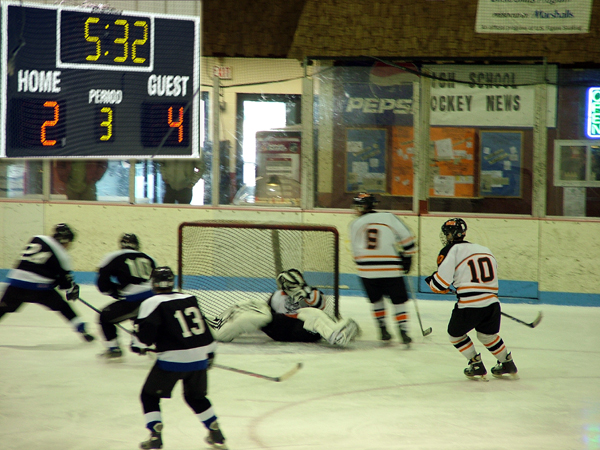 Blackhawks Beat Camden On Road!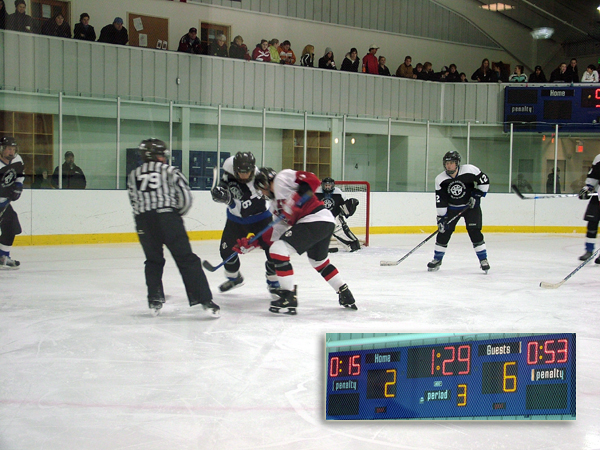 Blackhawks 9-1 Win Over Win Dale in Augusta's KIA!
Blackhawks at KIA, Augusta Take On Win Dale Ice Dogs, 9-1 Win!
Season Opener. Class B Blackhawks Take On Class A Bangor. Beat Them 2-1 On Rams Home Ice In Bangor! Watch The You Tube Highlights!
Blackhawks Rout Orono Red Riots 12/17/2007 at Alfond Arena 5-1.
Blackhawks Tackle Orono Red Riots At Millar Arena Home Ice 9-0 Win!
Blackhawks On The Road At Sawyer Arena Dominate Hampden Broncos 5-2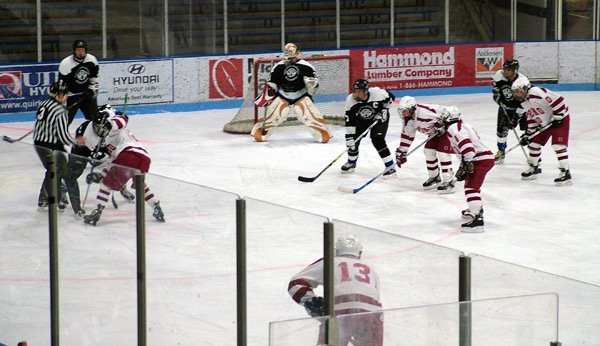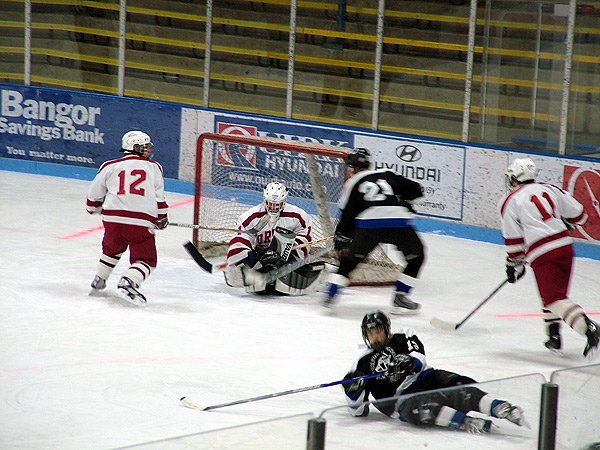 Dangler Slides One In Like An Assassin..While Craig Buxton Clears Lane To Quiet The Riot!!
3 Above Images In Orono Win, 3 Below in Bangor Win!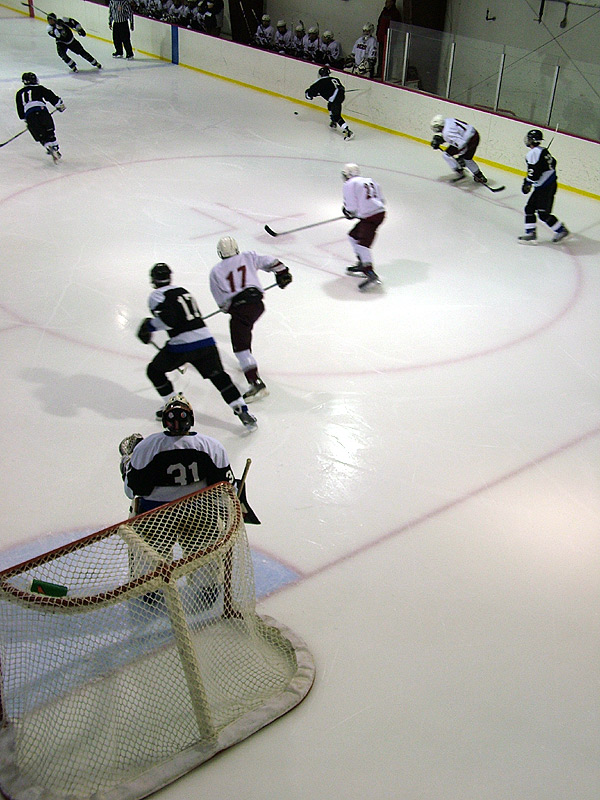 Blackhawks Beat Class A Bangor Rams!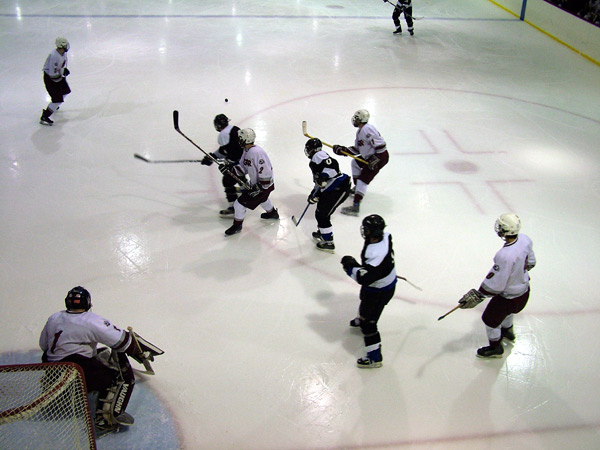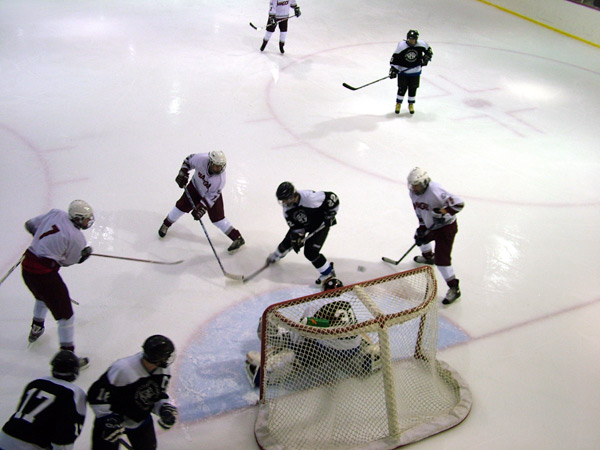 The 2007 Blackhawks Below! Stay Tune For The New Team Picture & Tons Of Game Images For The Exciting 2008 Season!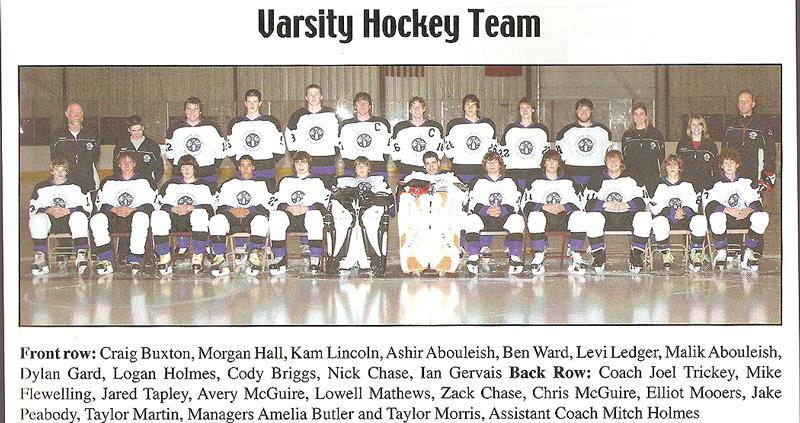 2008 Houlton Hodgdon Blackhawks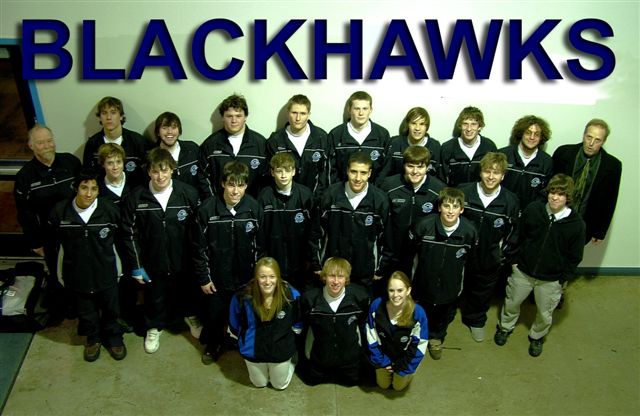 Another Season 2003/2004
2007 Future Blackhawks Day With SAMHA Players!